VDO Instrument Clusters
CDI Electronics is the sole remanufacturer of VDO Instrument Clusters used on many 1994 – 2001 Four Winns Boats.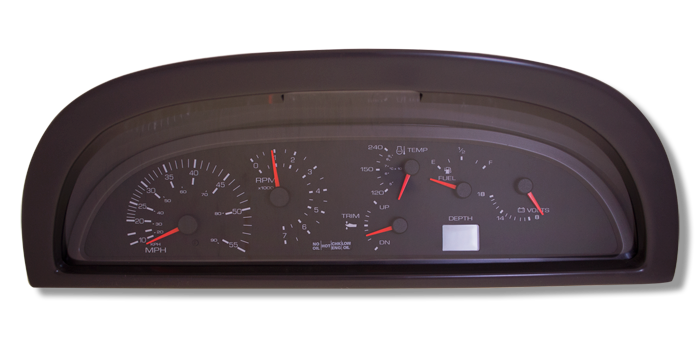 To have your Dash Panel repaired, follow this process:
Click here to open the VDO Instrument Clusters Installation and Troubleshooting Guide to diagnose the problem with your panel.

Identify the Dash Panel Part Number ( This May Require Removal) or search for your boat by typing in (blank) in the search field located in the upper right-hand corner of our website.

Complete the RMA Request Form.  Click here to open.

Remove & Securely Package Dash Panel for Shipment. In shipment box, please include all relevant contact information.

Ship to: CDI Electronics / Att: [Your RMA Number]
VDO Instrument Clusters Available for Premier Repair Services
*Numbers Listed Below are CDI Numbers (R+OEM Number)
 ***CDI's Four Winns Repairs are warrantied for a 20 hour run time. A $100 Diagnostic Fee will be charged for all Four Winns evaluations. If the Four Winns can be repaired, the $100 will be credited to the repair price.
| | | |
| --- | --- | --- |
| R1-911-220934BO | RFW-025-2349 | RFW-176604 |
| R1-912-00-067B | RFW-025-2481 | RFW-176682 |
| R1-912-220-000 | RFW-033-0001 | RFW-176683 |
| R1-912-220-179B | RFW-033-0002 | RFW-176689 |
| R1-912-220-193B | RFW-033-0003 | RFW-1-911-220-934B |
| R1-912-220-227B | RFW-033-0004 | RFW-1-912-220-083B |
| R4010379 | RFW-033-0005 | RFW-1-912-220-100B |
| RF176594 | RFW-175111 | RFW-1-912-220-117B |
| RFW-025-1208 | RFW-175753 | RFW-1-912-220-124B |
| RFW-025-1686 | RFW-176232 | RFW-1-912-220-162B |
| RFW-025-1793 | RFW-176493 | RFW-1-912-220-186B |
| RFW-025-1837 | RFW-176503 | RFW-1-912-220-258B |
| RFW-025-1838 | RFW-176591 | RFW-1-923-000-067B |
| RFW-025-1970 | RFW-176594 | RFW-72659A |
| RDW-025-210B | RFW-176603 |   |