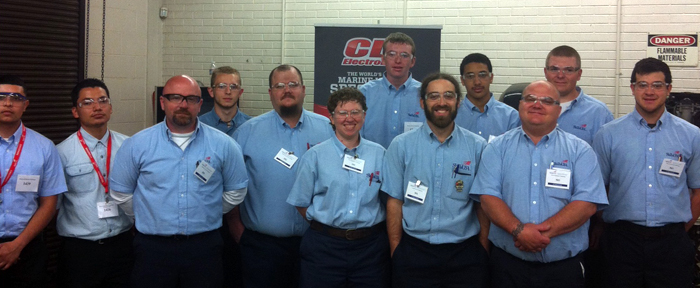 On April 16, CDI Electronics participated in judging the Tennessee SkillsUSA state competition held at Chattanooga State Community College. The competition, which included high school and post-secondary students, challenged the participants in skills such as mechanical measuring, diagnostic troubleshooting, and testing of engine components, plus, they were tested on skill sets such as job interviewing, written communication, and shop safety procedures.
"We are proud to again participate in another SkillsUSA state competition", says Thomas "TJ" James "we see the value in supporting the educational facilities as they introduce new marine industry professionals to our market".
CDI Electronics manned two diagnostic work stations during the competition: one enabled students to diagnose an engine using CDI's Marine Engine Diagnostic Software, M.E.D.S., and the other was an ignition test station for recording various electrical measurements.
CDI Electronics will be participating in SkillsUSA Florida at the end of April as well as the National Skills USA Championships held in Kansas City, MO on June 23-27, 2013. For more information about SkillsUSA visit: http://www.skillsusa.org/events/nlsc.shtml
SkillsUSA is a national organization serving teachers, high school and college students who are preparing for careers in technical, skilled, and service occupations.
SkillsUSA programs also help to establish industry standards for job-skill training in the lab and classroom and promote community service.